Community
Clubs & Groups
FEELING LIKE YOU NEED SOMEONE TO TALK TO?
FEELING LIKE YOU NEED SOMEONE TO TALK TO? CHENANGO COUNTY behavioral Services is now offering walk in hours for your initial session. Open access Monday-Friday 9:30 am-1:30 pm. Treatment available for anxiety, depression, substance abuse concerns, relationship/family problems and other mental health concerns. Questions? Call us 607-337-1600.
Norwich & Sidney, Turnpike & Oneonta, Cobleskill & Mohawk Valley, Wharton Valley
---
"TO LOVE AN Addict" is here to provide ongoing support to families that have been affected by addiction and other related issues. The goal behind this support group will be to reach out to families who are currently experiencing the devastation's of addiction. Here we will be able to provide education, resources, support and hope to these individuals. We will meet the 2nd Monday of every month at the Norwich YMCA 6:30 pm- 8 pm. We will also meet the 4th Monday of every month at the Rogers Center in Sherburne, 6:30 pm- 8 pm. If there are any questions please feel free to call Sarah Stewart at 607-316-3556 or Nicole Rowe at 607-244-4127 or contact us on our Facebook page.
Norwich & Sidney, Turnpike & Oneonta, Wharton Valley
---
ACAPPELLA SINGING Group based in oneonta, is looking for singers. Singing SATB arrangements of songs from pop, jazz and gospel genres. For more info call Bob at 607-432-8054 or email cunninfe@oneonta.edu.
---
FIRST FRIDAY of the month- September thru May, Canadarago Snowtoppers monthly meeting, 7:30 pm at The Genesee, Lake Street, Richfield Springs.
---
2ND THURSDAY OF MONTH at The Clubhouse on Monticello Road- April thru November Monthly meeting for Richfield Sportsmen's Club, 7 pm. December thru March meeting at The Vets Club.
---
THIRD WEDNESDAY of the month- Daughters of Union Veterans of the Civil War meet at 7 pm at the Bridgewater Municipal Bldg., State Route 8, Bridgewater. Visitors are welcome. Information call 315-855-4184.
---
4TH THURSDAY of the month- Leatherstocking Beekeepers Assoc meetings at Cornell Cooperative Extension, Cooperstown, 7 pm. Visitors Welcome. Information 607-264- 8190.
---
EVERY TUESDAY at 5:15 pm at The Green Earth in Oneonta, 4 Market Street- Introduction to Buddhism & Meditation.
---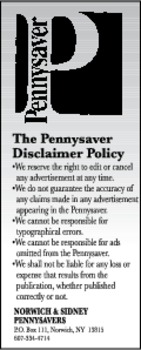 ---